July 05, 2016
Submerged BrainBoxes.
Sometimes last week, my car got flooded in water.
Which was really strange, because the same day exactly 5 years ago, I posted this on Facebook:
First, a little backstory.
I bought my first car going on 22. For the first few months after that, I loved driving. It was exciting at first… the feeling of being in control. But in no time, the feeling soon waned off, as I began to understand that by getting a car, I had lost something really valuable.
Or had I?
But let's get back to the main story for a bit…
Sometimes last week, my car got flooded in water. Point of correction, Lekki water.
It had rained terribly all through the night, into the morning. Heading out for an early meeting, I saw a gigantic puddle of rainwater sitting between me and an adjoining road. It looked deep, but having just seen an SUV go through and come out successfully, I was confident that my car could pull off a similar stunt.
So I drove into the water with all confidence.
Less than a few seconds after I drove in, harsh reality hit. The engine, alive and revving a moment ago, started coughing. Water had seeped badly into the exhaust, and then into the engine. To make matters worse, it happened in beach-type sand, so my tyres were instantly rendered useless. Naturally, the car went off – and like I had expected, it didn't start again. Water, in its element, started seeping into the car, soaking the rug in a matter of seconds. Before I knew it, I was knee-deep in water, and the only thing that came to mind was rescuing my phone and computer, which I promptly did. Next up, after contemplating for a while, I took off my shirt, rolled up my already-soaked trouser, and got out of the car to get help.
Oh. But not after taking a picture… you know, for Instagramurance and whatnot 🙂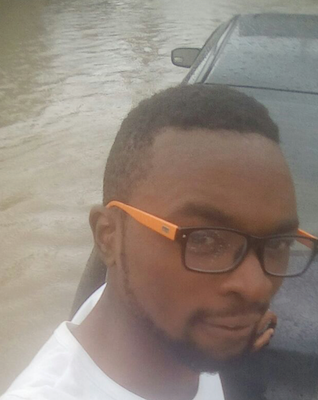 In summary, the most terrible thing that happened was that my car's brainbox got submerged in water. I remember the mechanic bringing it out, turning it upside down – and water gushing out. It was fried on impact! Water also got into the engine, the spark plugs, the air filter and messed up the leather seats. Oh, and my phone? When I got back after the meeting later that day, I mistakenly put it in the car's cupholder – which I forgot also had water in it. The rest, as they say, is history.
The next 4 days after the incident had me trying to figure out how to get the car fixed and still get work done. In between taking trips to client meetings, the ATM, convenience stores and back to the mechanic, I used all types of public transport.
Half an hour after we pushed out the car and parked it on the road, I entered the first bus. Still had to make a crucial meeting. Ignoring how wet, cold and highly disorganized I felt, I pulled out my smartphone and whipped out a Whitepaper. Jeez. How I had missed reading in transit. So I started perusing the document. But less than five minutes into it, I had to stop reading.
And definitely not for lack of trying.
Growing up, I had quite the reading culture. From Anthony Horowitz to Thomas Friedman, John Maxwell to Apostle Paul, I read anything and everything I could lay hands on. But unfortunately, all that reading had to be done when I wasn't on the move.
I remembered… during my internship days – how much I tried to read during my daily commute. I also recalled when I was younger – feeling nauseous and having to ask my mom to open the car windows anytime I was trying to read or stare at a screen, thinking it was just fresh air I needed.
Later, it all added up.
I discovered I had what's known as Moderate Vertigo – motion or carsickness, if you may call it.
I was young, but seriously upset.
Back to the backstory.
After a few months of experiencing the new car, I figured I had lost something valuable – the free time that came with not driving a car, or just being a passenger in a bus. Free time that could be used for other useful stuff, like reading.
Except that I just couldn't.
My 4 days spent without a car, a smartphone or a book almost had me frustrated, not because of the situation, but because I couldn't make productive use of the free time. But instead of bawling at the situation, the whole experience had me actively trying to learn from everywhere else: on one day, the roasted corn shed where I had to wait while rain fell, had a guy who never went to school but kept telling us the most insightful things. At the mechanic's workshop, I learnt how to burn spark plugs in fuel, dry air filters using wind from a diesel generator and check for bad fuses using a wire, a battery and sparks.
I'm one in probably ten-thousand Nigerians who can't read in a moving vehicle. But most others who can read, don't read. And it has me worried. Not because people can't read in any other location, but because, in this day and age of a thousand work-related deliverables and a million distractions, we know all too well that the daily commute is most probably the only free time people have on their hands. And on the long run, I really don't see us developing as a nation, utilizing yesterday's knowledge alone. We need to learn new things. And for the most part, to learn those things, we do need to read!
At VeriCampus, we've kicked off deep conversations on how to influence and improve the reading culture of Nigerians and Africans by utilizing a creative mix of technologies around accessibility, attention and retention. And we can't wait to share it with the world.
Because, in all honesty, without a strong reading culture, the only place we're headed to, is murky waters with lots, and lots, and lots of submerged brainboxes.
Extra 🙂
Weirdly enough, a few days after the flooding incident 5 years ago, I also wrote this: